Pearl™Laser Rejuvenation
Laser skin resurfacing with Pearl™ is a minimally invasive cosmetic procedure used to reduce the appearance of wrinkles, fine lines, sun damage and other skin irregularities. It offers patients many advantages over traditional resurfacing procedures such as chemical peels and microdermabrasion, as it practically eliminates side effects such as discomfort, bleeding and bruising.
Laser skin resurfacing treats sun-induced skin damage and signs of aging such as laxity by removing damaged cells in a precise, controlled manner. In contrast to older laser resurfacing lasers such as the CO2 and Erbium, the Pearl laser produces less thermal (heating) injury, resulting in a rapid recovery, low risk of complications and minimal downtime.
Pearl laser skin resurfacing can be used to treat:
Wrinkles
Brown spots
Crow's feet
Pigment irregularities such as melasma
Sallowness or blotchy skin
Skin laxity
Mild acne scarring
Chicken pox scars
Superficial facial scars
During the Pearl laser skin resurfacing procedure, short laser pulses are delivered precisely to remove layers of damaged skin, thereby leaving the treated areas smoother and more evenly pigmented. The laser also heats a deeper layer of skin called the dermis, stimulating collagen tightening and new collagen production. This will improve your skin's tone and structural integrity while provide long-lasting results. Collagen growth continues for months after treatment. The laser energy causes minimal heat damage to the surrounding structures, reducing the risks of scarring and unwanted pigment changes sometimes seen with older skin resurfacing laser.
This procedure is performed on an outpatient basis and uses local anesthesia to help minimize discomfort. The entire procedure may take up to 30 minutes to perform, depending on the size and condition of the treated area. Most patients only require one or two treatment sessions to achieve their desired results.
After Pearl laser skin resurfacing, patients may experience mild swelling and discomfort for a few days. These symptoms can be controlled with ice packs and medications prescribed by your doctor. Patients will also experience redness that gradually diminishes. While most patients can return to normal activities right after treatment, mild redness may persist for 1-2 weeks in some cases. Patients are advised to schedule their treatment at least five days before any important social events, and to plan on avoiding heavy sun exposure in the weeks before and after treatment. Since collagen remodeling takes place over time, the final results of a Pearl laser procedure may take months to fully appear.
Although laser skin resurfacing is considered safe for most patients, there are certain risks associated with any laser procedure. Some of these risks may include scarring, infection, abnormal healing, allergic reactions or skin pigmentation. As part of your initial cosmetic consultation, our skin care experts will review these risks and how to get the best results by following our Pearl skin care regimen both before and after treatment.
FractionalPearl™Laser Rejuvenation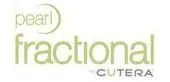 Pearl Fractional is a different form of laser treatment created to erase the deeper signs of aging and sun damage, often in just one treatment. "Fractional" refers to the fact that only a portion of the skin is affected by the procedure. The Pearl Fractional laser creates thousands of microscopic columns of treated skin, interspersed with islands of healthy skin that speed up wound healing and recovery. This process removes damaged tissue and stimulates collagen growth to produces smoother, firmer, younger looking skin.
Since the Pearl Fractional laser is able to target very precise columns of tissue, it leaves surrounding skin unaffected. This maximizes the results of a single treatment. The procedure is done in our office, using topical anesthetics supplemented by anesthetic injections when needed. Most find any discomfort during treatment to be mild and short-lived. Some have described their Fractional Pearl treatment as feeling like a succession of quick, hot pinches.
Rapid recovery time is a major benefit of the Pearl Fractional treatment. Immediately after the procedure, your skin may look red and swollen with some mild crusting. Some report a burning sensation that fades quickly. Patients will be given a detailed regimen for post-resurfacing skin care and should follow this closely, taking any prescribed medications as directed. Most see noticeable improvement in their skin a week after the procedure, and these results only improve over time.
Ideal for patients with light or medium skin tones and deeper wrinkles, the Pearl Fractional laser is particularly good at smoothing wrinkles around the eyes and mouth: two areas that often show the worst signs of aging and photodamage. The treatment is also effective at softening acne scars in appropriate candidates. Depending on your skin condition, it may sometimes be used in combination with other lasers to optimize your results.